retraites, trainingen & B&B
Sfeervolle zaal gemaakt in antroposofische stijl (natuurlijke rondingen en leemwerk)
Zaal geschikt voor +/- 45 personen (bij de huidige corona maatregelen geschikt voor 21 personen + eventueel nog personen op het balkon)
Grote zaal met daarboven een balkon met tribune. Vanaf het balkon kun je naar beneden kijken en eventueel een spreker volgen.
De zaal heeft een vrije doorloop naar het terras. De achterkant van het pand is direct aan de rand van de Veluwse bossen gelegen, terwijl er vanuit de zaal een vrije uitkijk is over de velden
Er zijn 11 slaapkamers waarvan de meeste geschikt voor minimaal 3 personen (niet alle kamers zijn altijd beschikbaar + vanwege corona maatregelen kunnen er nu maar 1 tot 2 mensen op een kamer).
Verder vooralsnog 2 bungalows voor elk 4 personen (of twee 1-persoonskamers)
Vrijwel iedere kamer beschikt over een eigen badkamer met douche en toilet.
Geschikt voor overnachtingen voor grote groepen, als ook verhuur van kamers als Bed & Breakfast.
Gelegen midden in de Veluwse bossen met uitkijk over de velden
Geschikt als groepsaccommodatie
Geschikt voor retraites
Geschikt voor trainingen en coaching
Geschikt voor workshops
Geschikt voor B&B overnachtingen
Aangrenzend aan de zaal is een groot terras met een grasveld dat eventueel gebruikt kan worden voor activiteiten
't Zonnehuis kan op vele manieren worden ingezet en worden geboekt voor zowel eendaagse activiteiten, als activiteiten van meerdere weken. Neem contact met ons op voor de mogelijkheden.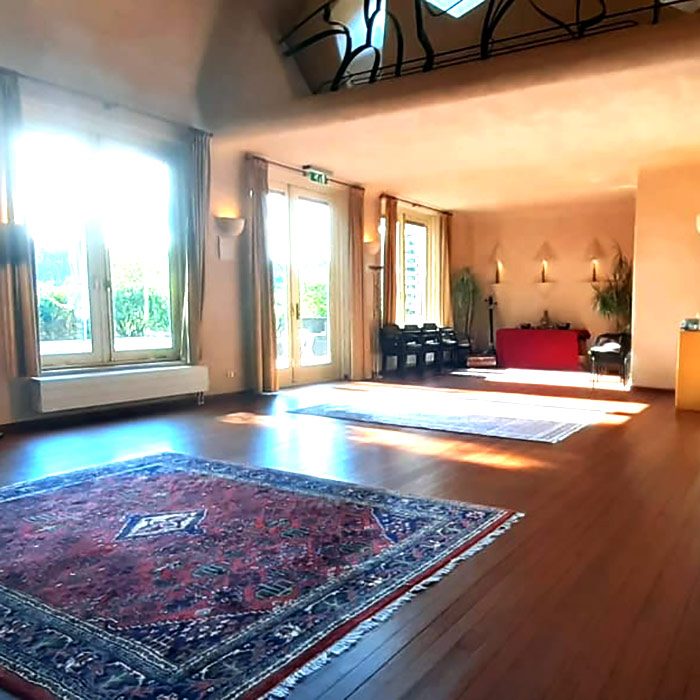 De plek is echt super!! Je loopt de deur uit en bent in het bos, waar je een leuke wandeling kan maken " het klompenpad" super leuk! Bas geeft ijsbad trainingen en heeft mij goed begeleid om het natuurwater in te lopen. Hele bijzondere ervaring en uiteraard goeie begeleiding van Bas, anders had ik het nooit gedaan. In het zonnehuis waren allemaal lieve mensen, gezellige sfeer. Zeker een aanrader!!"" Nathalie
Comfort, Bliss, Relaxation
Standard daily programm, such as 3 times a day silent and guided meditations, yoga / breathing sessions.
Visiting the Zonnehuis between periods of organised retreats you can join the silence and activities such as cold water immersion, ecstatic dance, sound healing, mantra or other concerts and more…
"Everyone who works here has a big heart, even the building itself has a heart and is warm and beautiful." Rocio (Mexico)
"I always love to lose myself into the deep of
the tranquility in the morning"
Welcome to 't Zonnehuis (The House of the Sun). One of the most beautiful places, in the green centre of the Netherlands. The world at your fingertips and yet enclosed by the forest, full of heather, sand drifts, streams and wildlife. A light spot and energetic 'island' where you immediately feel yourself slow down, quiet and relax.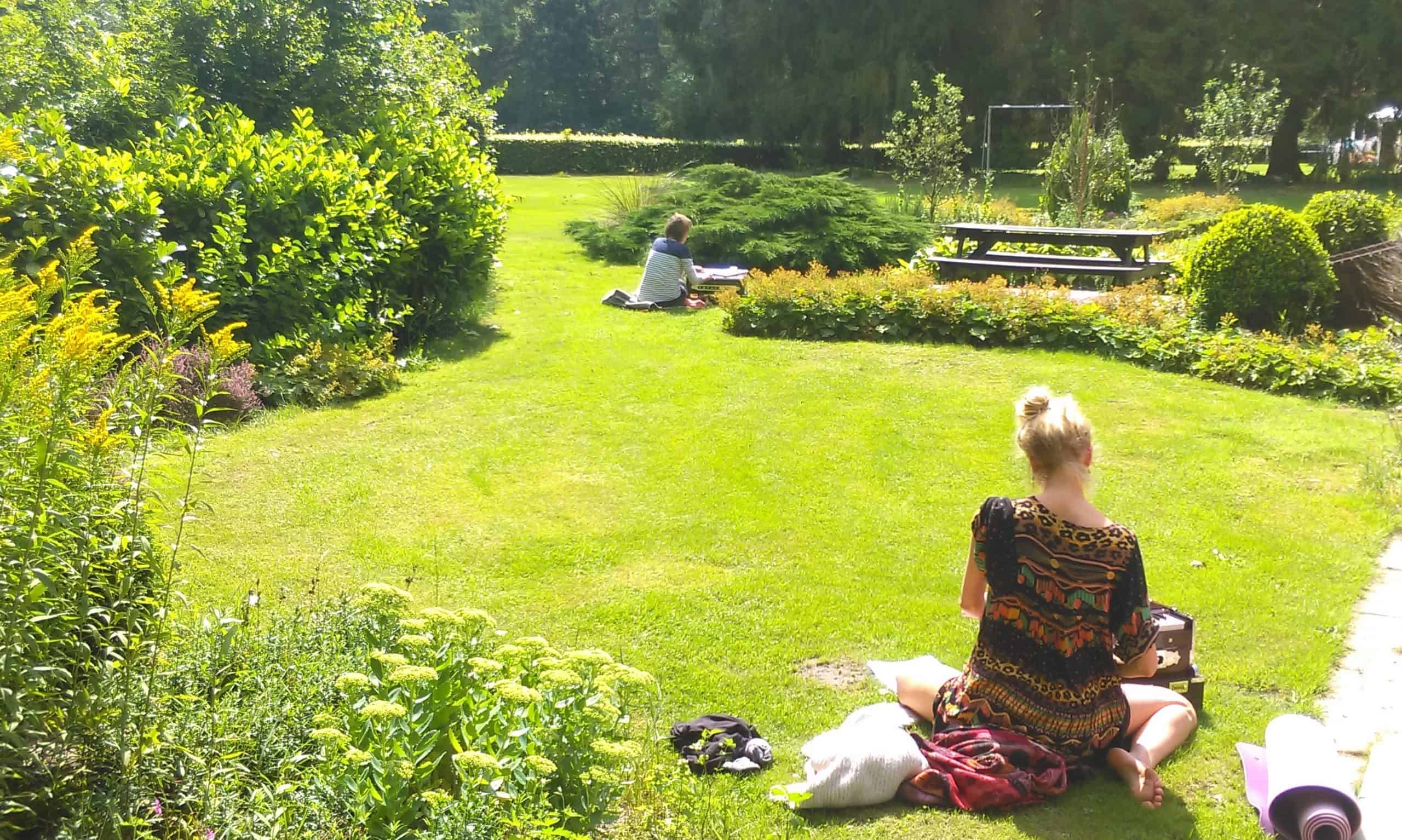 There's a lot of relaxation and relaxation in the immediate vicinity. It is beautiful walking and cycling (Rent a bike in  the village). There's an vedic ashram and buddhist centre nearby, the Posbank, parc 'the hoge Veluwe', the steam train, Bussloo (lake), de 'Apenheul' and Burgers Zoo, for example.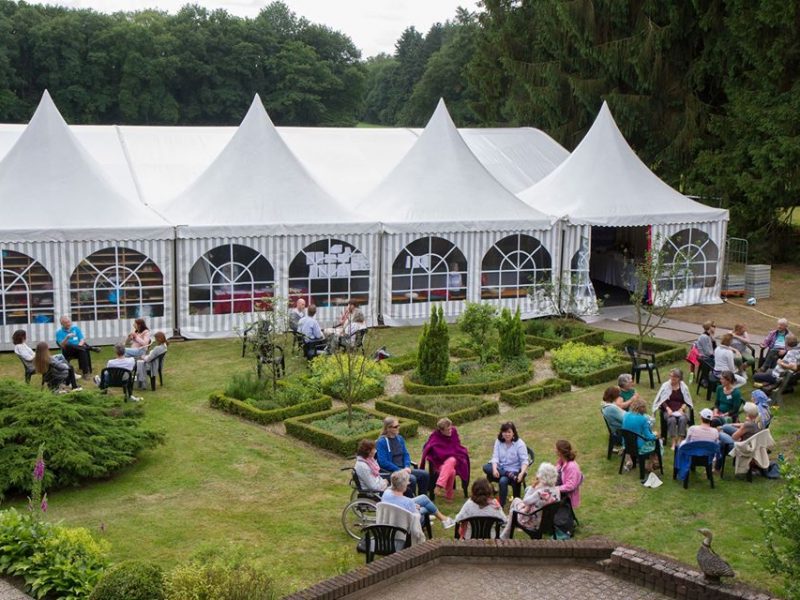 Almost all rooms have their own bathroom. There are also bungalows for rent and a place to camp. It's all comfortable and cozy.
Hele fijne, open en liefdevolle sfeer. Mooie ruimtes en midden in een prachtige omgeving. Wij komen zeker terug!
Kees
Bas and Bert are amazing people, the Zonnehuis is a very relaxed arty and warm place! Very much recommended!
Renate
Dit retraitecentrum is geweldig!! Goede vibes, geweldige atmosfeer en de liefste, meeste welkome mensen ever!! Gun jezelf tijd in dit geweldig verblijf.
Kim
Please contact us for the possibilities, availability and prices.